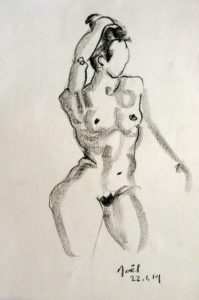 Life-Drawing Workshop, Sunday 23rd June from 10.30 am to 4.30 pm at Atelier Schön13, Schönstedtstr 13, near U-Bahnhof Rathaus Neukölln.
In this workshop you will learn the techniques of mark-making, how to improve your quality of line and to really see your subject.  Noël O´Callaghan takes a dynamic approach concentrating on the energy and mood of the pose. She will  show you how to infuse your drawing with spirit by loosening up to create a flowing line while at the same time attaining an accuracy of weight and mass. Places are limited to 6 ensuring each participant gets lots of individual attention and advice. The fee including all materials and model fee is 75 euro. This also includes tea, coffe and light refreshments. The workshops take place in the artist´s studio which is on the 4th floor of a quiet, leafy courtyard and is bright and full of daylight. They are conducted through English and/or German as required.
To book send a mail to nocal(at) gmx.net or via website contact page.