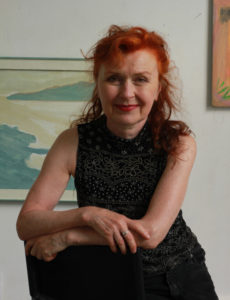 Noël O´Callaghan was born in Cork and is the daughter of  the  painter Diarmuid O'Ceallachain (1915-1992). After attending the Crawford College of Art, she graduated from UCC with a degree in English literature. She worked as a professional actor before moving to Berlin in the mid-80s and becoming a full time visual artist. She has a studio in both Cork and Berlin.The main focus of Noël O´Callaghan's work is the lived moment and how to accurately express its fleeting intensity with fluidity and economy.
"I try to convey a sense of 'suddenness' in my work – the immediacy of that moment of perception before there is time to decode the information and categorise it. I hope always to be surprised by the results. I want the works to look light and unlaboured, as if the work of a moment, belying the depth of emotion involved. I am always juggling spontaneity and control."
Noël admires the German Expressionists such as Nolde and Munch and the Abstract Expressionists such as Rothko and Frankenthaler. While she favours energy over academicism in painting, drawing is nonetheless an important aspect of her work and she posts a daily drawing on social media. Her durational work 'Live', based on life-drawing in public spaces, was the first art event to be part of the Dublin Theatre Festival's main programme in 1995. Noël has been commissioned for a number of public art projects in Berlin and has exhibited widely in both solo and juried shows, including the Oireachtas, the Crawford Open and Iontas. In 2020 she was shortlisted for the Janet Mularney prize and selected for the Highlanes Gallery Open Submission Exhibition. Her work can be found in private and public collections in Ireland, Germany, UK, China and USA. She has received awards from the Irish Arts council and the Berlin Ministry of Culture.
AWARDS
Irish Arts Council Touring Grant for 'Live'
Irish Art Flight Awards
Irish Cultural Relations Committee Transport Grants
Berlin Ministry of Art Studio Grant (ongoing)
RESIDENCIES
AA Samuolis Symposium, Lithuania
Cill Riallaig Project, Co. Kerry, Ireland
Kiltimagh Artists Residency, Co. Mayo, Ireland
 Selected Solo Shows
2018 Affinities, Uillinn, West Cork Art Centre, Skibbereen
2017 A Rainbow in Curved Air, two person show with Cóilín Murray at the Doswell Gallery
2015 Súil Siar, Irish Embassy, Berlin
2014 Súil Siar, Aras Inis Gluaire Arts Centre, Belmullet, Co. Mayo
2009 Pet Parade, Galerie im Saalbau, Berlin
2005 Mitte, Brecht Haus, Berlin
2002 Görlitzer Park, Brecht Haus, Berlin
2001 Mullingar Art Centre, Ireland
2000 Galerie Anton, Berlin (C)
1998 Davis Gallery, Dublin
1998 Origin Gallery, Dublin
Selected Group Shows
2022 West Cork Artists, Catherine Hammond Gallery, Bantry
• 2021 140th Royal Ulster Academy Exhibition, Belfast
• Crossings, Boyle Arts Festival, Boyle, Co. Roscommon, Ireland
2020 Highlanes Open, shortlisted for the Janet Mularney prize
2019 Catherine Hammond Gallery at VUE Art Fair, Royal Hibernian Academy, Dublin
Sketch the Moment, Gallery Zeitzone, Berlin
2017/18 Neukölln Production, Berlin
2017 Silent Auction, The Drawing Hub, Berlin
2017 10 Jahre, Kunstverein Neukölln, Berlin
2016 Summer Exhibition, Lavitt Gallery, Cork, Ireland
2016 2nd NSK State Folk Art Bienniale, Burren College of Art Gallery
2015/16 Art Garage, 48 Stunden Festival, Berlin
2014 Hysteria, Soma Art Gallery, Berlin
2012 Irish Wave, Shanghai, China
2011 Turm-Modell-Akt, Galerie im Turm, Berlin
2010 Blasphemy, Irish Museum of Contemporary Art, Dublin
2010 Anonyme Zeichner, Uferhallen, Berlin
2009 Anonyme Zeichner, Künstlerhaus Bethanian, Berlin
2009 Drawing Eire, 411 Gallery, China (C)
2008, 2007, 2006, Kunstraum t27, Berlin – kunstraumt27.de
2005 Portraito Formato, Meno Parkas Gallery, Lithuania (C)
2004 Fenton Gallery, Cork
2003 Cill Rialaig Show, National Museum of Ireland, Dublin
2001 Oireachtas, Royal Hibernian Academy, Dublin
2000 Hallward Gallery, Dublin
1998 The Figure Show, Irish Artists in Berlin, Galerie in Körner Park, Berlin (C)
1996 Volume, Crawford Municipal Art Gallery, Cork, (curator Allana Heiss, P.S.1, N.Y.) (C)
1995, 1996 Iontas (C)
Installation/Performance/Interventions
2015 Sketch of the Day, Facebook daily sketch – www.facebook.com/noel.ocallaghan.77
2008, 2007, 2006, Pet Parade, Berlin (with dougfender) pet-parade.de
2005 Hunde Salon, commissioned by Neukölln Arts Council, Berlin
2003 reset, Dublin Theatre Festival (with dougfender)
1997 Makinalasmak, multimedia installation, Cork Institute of Technology (with dougfender)
1995 Live, performance / installation based on life drawing – main programme of   Dublin Theatre Festival